Crouzet helping to roll out new greener electrical equipment
Crouzet, a specialist in Electrical Protection Devices, contributes to the development of more advanced electrical control equipment onboard aircrafts and helicopters.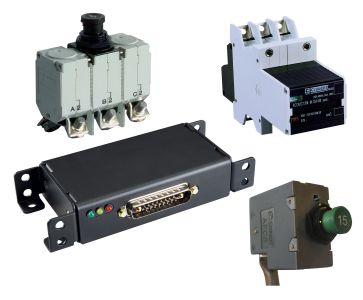 Electrical protection components for your electrical network
Crouzet has been producing high performance aerospace components for over 50 years and has secured a leading role in product lines dedicated to aerospace applications. Crouzet offers electric protection components for your electrical network:
Electromechanical Circuit Breakers (CB) with multiple terminal options (frog legs, FASTON, EN, MIL…)

Single Solid-state Circuit Breakers (SSCB) (i.e. an electronic switch and a data BUS – thus a one channel SSPC)

Stand alone Power Distribution Units (SPDU) (i.e. a cluster of Single Solid State Switches = a SSPC)

Remote Control Circuit Breakers (RCCB) for protection of bus bars coming out of the primary distribution

Circuit Breaker Panels (CBP) and kits adapted to customer specifications

Arc fault and ground fault circuit breakers
All-in-one solution for most applications
Using the most recent solid state technology, Crouzet has developed new generic Solid State Circuit Breakers (SSCB) combining a microcontroller and a switch. Clustered into a Stand alone Power Distribution Unit (SPDU), the SSCB replaces several LRUs, simplifies electrical distribution, reduces weight and maintenance costs. Two SPDUs are available, one for 28 VDC applications, the other for 115 VAC (360…800 Hz) applications.